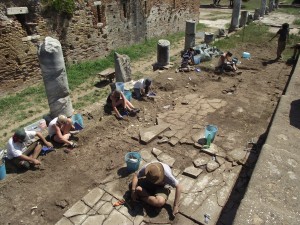 Since 2010, the areas of research by the Berlin team and the Kent team were divided. While the Kent team as part of the Kent-Berlin-Ostia excavations (KBO/BKO) continued their work south of the temple of Roma and Augustus, the Berlin team focused on the main Forum. This division led to an autonomous excavation and research project, the Humboldt-Ostia-Forumproject (HOF) 2010-2014. The excavations at MFW (see picture to the right, 2011), MFP and MFR (2010-1), at MFP (2012), and at MFD, MFP and MUN (2013) were conducted with an international team by Axel Gering in coorporation with:
a summerschool of the Excellence Cluster TOPOI, Berlin (subproject coordination, Undine Lieberwirth)
institute of Geoscience of Freie University, Berlin (FU)
the German Aerospace Center (DLR)
Illustrated Architecture (IA)
Eastern Atlas
the Berlin-Branderburgische Adademie der Wissenschaften (BBAW)
The excavation team was extended thanks to students from the Aarhus University, Denmark, under supervision of Daniel Damgaard.