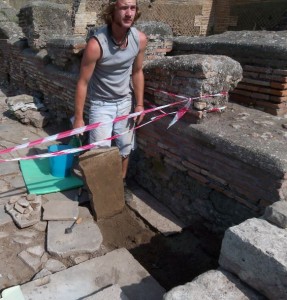 Field archaeologist since 2010, finds manager in MFP-apse in 2010-2012, Bachelor work about the MFP-apse 2012
Johannes took part in the campaigns 2010, 2011 and 2013 as field archaeologist. In his first two campaigns he was responsible for the excavation of the so-called apse. The apse is situated in the central part of MFP, and was then subject of his Bachelor thesis. Besides this contribution to the excavation, Johannes was and is still in process of researching on the ceramics. He was born in 1987 in Essen and lived for some time in Switzerland and France before he moved to Berlin. He finished his BA in 2012 at the Humboldt-Universität in Berlin, where he is currently also doing his Masters degree.
His doctoral thesis is titled The Capitolium in Ostia and the Hadrianic Forum's Programme
A website has been dedicated to the Ostia Graduiertenkolleg within which, this project is being conducted. Click here.